On Letters

---
On Letters is an epistolary essay, structured as thirteen wide-ranging and personal letters to the late conceptual artist On Kawara. Playing with language and its limits, the letters focus first on the artist's five decade long body of "Date Paintings" and their relationship to typography. Yet from this starting point, the writing swerves to encompass topics such as the creative process, mindfulness, numbering systems, race, narrative structures, and more. On Letters is a unique glimpse into one artist's inner dialogue and an exploration of how the solitary practice of artmaking can spark other transformations in the world.

A special edition of the book is limited to 60 numbered copies and includes a free editioned press sheet/poster

---
On Letters
Prem Krishnamurthy
4.5 x 7 in.
152 pp.
three color process, softcover



$20
On Letters
SPECIAL EDITION + PROOF SHEET
4.5 x 7 in.
152 pp.
three color process



$100
---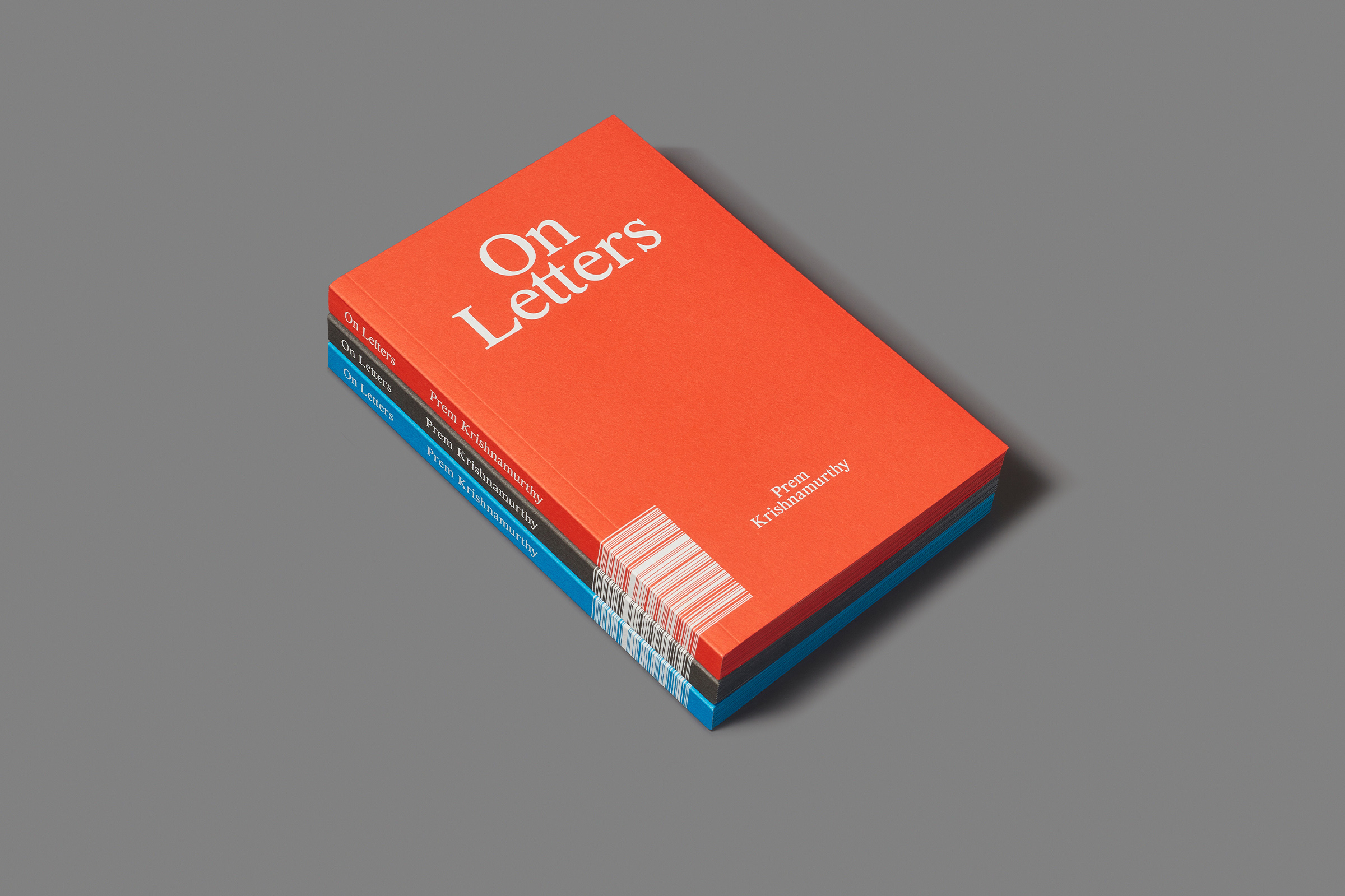 Prem Krishnamurthy's brain is a fascinating prism through which to engage On Kawara's Date Paintings. This book is both captivating and rigorous. —Julie Mehretu
No one is better placed to reflect on On Kawara's perfect marriage of typography and ontology than Prem Krishnamurthy. An intellectual triumph and a true labour of love. —Tom McCarthy


Krishnamurthy's inspired rereading of Kawara's classic work adds immensely to its reach and influence. —Brian O'Doherty

An extraordinary exchange of letters, inaugurating, like all art, dialogues across time and space. I was glad these letters reached me. —Amitava Kumar

Prem Krishnamurthy (b. 1977) is a designer, author, and educator. He directs Wkshps, a multidisciplinary design consultancy and organizes Department of Transformation, an emergent, itinerant workshop that practices collaborative tools for social change. He has directed and curated large-scale exhibitions including Oh, Gods of Dust and Rainbows, the 2022 edition of FRONT International: Cleveland Triennial for Contemporary Art; Our Silver City, 2094 at Nottingham Contemporary; and Ministry of Graphic Design in Sharjah, UAE.

Previously, Prem founded the design studio Project Projects and the exhibition space P! in New York. He received the Cooper Hewitt National Design Award for Communications Design in 2015 and KW Institute for Contemporary Art's "A Year With…" residency fellowship in 2018. His professional papers were acquired by Bard College's Center for Curatorial Studies in 2019.

In 2022, Domain published his book-length epistolary essay, On Letters. His experimental electronic book, P!DF, is available online.